Country and Culture
Ethiopia is the second-highest country of the continent, next to Lesotho. Fifty percent of its area lies above 1200m (3900 ft). The highest mountain is 4533 meters (ca. 14,000 ft) high and the lowest point is at 116 meters (380 ft) below sea level at Lake Karum on the border to Eritrea.

Ethiopia has a population of more than 105 million and is the second-most populated country in Africa. With an annual income per capita of approximately 570 US Dollars, it is one of the poorest countries in the world. Half of the population is malnourished. Every eighth child dies before it turns five. Droughts and a rapid increase in population have allowed poverty to persist.

Women's rights are only a reality to some extent. Female genital mutilation is still widespread. Poverty leads to child labor, child prostitution, homeless children, poor infrastructure and little hope for a better future.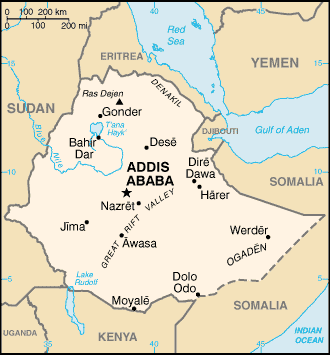 Addis Abeba
Addis Abeba (Amharic: new flower) is the capital of Ethiopia and headquarters of the UN Economic Commission for Africa (UN/ECA) and the African Union (AU or UA). Addis Ababa is 2350 meters above sea level making Addis Ababa the third highest capital of the world. The city has a population of approximately 3.5 million and is full of contrasts: modern buildings stand next to ruined shacks. As in many African countries, many people are drawn to the cities. These mainly come from rural areas but also as refugees from Eritrea and Sudan. They all come to the city in the hope of a better life. As a result, the city is colorful, partly overpopulated and does not have enough infrastructure for so many people. Nevertheless, Addis Ababa is a unique city: the variety of people, smells, places, buildings and sounds gives this city its extraordinary character.